Teeth Whitening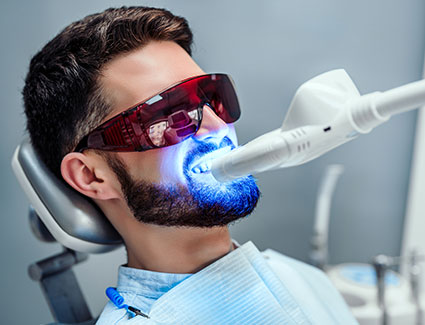 Do you have an upcoming event or wish to treat yourself to a brighter smile? Teeth whitening may be the best solution for you!
Teeth whitening is one of the most affordable and quickest cosmetic dentistry treatments available. At our practice, we offer the latest dental techniques and modern technology to help patients achieve their smile goals and good oral health.
The Consultation Process
The first step to whiten your smile is to book a consultation with our dentist. We will go through an evaluation of your teeth and gums ensuring you're a healthy candidate. If you require any dental work before teeth whitening, we can address this first.
For best results, we want to ensure your teeth are clean and have had a recent dental checkup. If you require any fillings or have any damaged teeth, we will also want to address these first to give your smile the best possible results.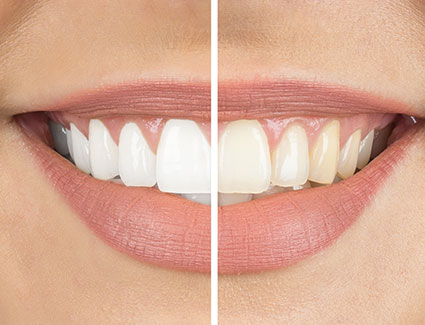 In-Chair Pola Teeth Whitening
In-chair whitening is a great solution for busy patients who want to get in and out, in just a single appointment. Your appointment will go for approximately 60 minutes. Your teeth will be prepared, and a professional whitening gel is applied. We will also apply a bright light over your teeth to speed up the whitening process. The gel is applied several times so we can get the best possible results for your teeth in the 60 minutes.
Take-Home Whitening
If you prefer to whiten your smile in the comfort of your own home, we offer take-home whitening kits. We will take impressions of your teeth to create your custom trays and give you the professional whitening gel to apply at home. Your dentist will go through the whitening instructions, so you know exactly how to use the product safely an effectively.
Frequently Asked Questions
What's the difference between dental grade whitening and pharmacy brands I can buy at the supermarket?
It's really important to be careful with whitening products in the supermarkets and retail stores. They can be more abrasive and cause more harm to your teeth, they also are not dental grade quality product. By whitening your smile with us, you're being cared for by a qualified dental health professional and using a world-class professional whitening gel. This gives your teeth the best possible results safely.
I have dental veneers; can I get whitening?
Teeth whitening will only change the colour of the natural tooth. If you have dental veneers and wish to brighten them to a lighter shade, give us a call for a consultation. We may just need to freshen them with newly restored veneers at a lighter shade.
Will my teeth feel sensitive after treatment?
Most patients feel mild sensitivity following teeth whitening treatment which is completely normal. We recommend using a gentle sensitive tooth paste in the meantime and nothing too abrasive on your teeth. Be gentle with brushing with a soft toothbrush.
We will go through your after-care instructions at your appointment. It is important to avoid colour rich food and drinks such as berries, beetroot, wine and coloured cordial. If you have any questions following treatment, give us a call on 02 9318 1972.
Whiten Your Smile Today!
Contact us to book your teeth whitening consultation. You are one step away from a whiter, brighter smile. Call now!
CONTACT US »

Teeth Whitening Redfern, Darlington, Surry Hills NSW | 02 9318 1972