Meet Dr Doyle Fernandes, Dentist
(BDS, GradDip Ortho (City of London Dental School, UK), FICCDE, FIADFE)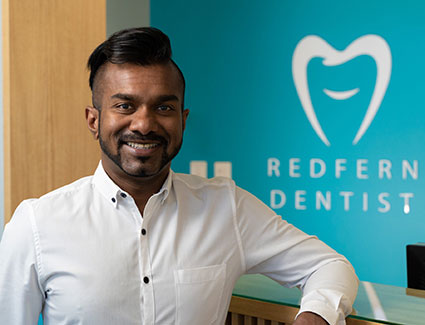 Dr Doyle Fernandes is a general associate dentist and has a passion for general dentistry and orthodontics. He moved to Sydney in 2013 and is an ADC certified dentist in Australia. Dr Doyle completed his Postgraduate Diploma in Orthodontics and Dentofacial Orthopaedics through the City of London Dental School. He has a wealth of clinical experience and has been treating patients in private practice since graduation.
Putting Patients' Needs First
Dr Doyle's humble, genuine caring nature and personality allow patients to relax and enjoy their time spent in the chair. He treats his clientele with honesty and sensitivity so you can be confident you'll receive exceptional care. Dr Doyle also has a keen eye for detail and practices all aspects of general dentistry.
He has a particular interest in cosmetic dentistry and orthodontics. Whether you want to improve the appearance of your smile with teeth whitening or porcelain veneers or wish to straighten your teeth with Invisalign, Dr Doyle can help you achieve the smile you've always wanted.
Outside of Work
When he's not caring for patients' smiles, Dr Doyle loves to keep fit and active. He enjoys music, the arts and spending time at the beach.
Book Now
Contact our practice to schedule your first appointment!

Dr Doyle Fernandes | 02 9318 1972