Dental Check-up and Clean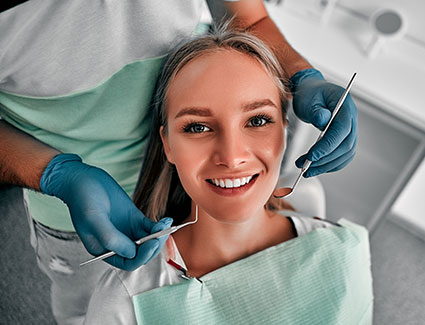 At our practice, we offer an array of general dentistry services to keep your teeth and gums healthy for life. From our youngest patients to our seniors, routine dental checkups and cleans are important to maintain good oral health and wellbeing.
Your Checkup and Clean Appointment
We start off with a comprehensive examination of your teeth, gums, soft tissues and take X-rays for your first appointment. During your checkup, your dentist will talk you through what's going on inside your mouth and raise any concerns, if any. We will also take photographs and scans and will discuss the findings together.
Should you require any treatment, we will discuss your options and develop a tailored treatment plan for you to consider.
Your Dental Cleaning
Once your exam is out of the way, we will proceed with a thorough scale and clean. Our friendly team will clean away any plaque and bacteria and polish off your teeth. At our practice, we love educating patients on oral hygiene and techniques. We'll walk you through each step of the way and give you tips and advice to practice at home!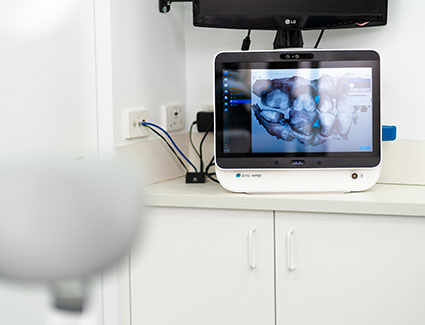 Why Plaque Buildup is a Problem
We have a preventative approach to dentistry and want to ensure patients are well educated on good oral health and hygiene. Daily homecare helps to prevent buildup of plaque on the teeth, however sometimes at-home dental care isn't enough. Overtime, small amounts of plaque can move to hard-to-reach areas, which can build up if not addressed and turn into gum disease and bad breath.
This is why we recommend 6 monthly visits for a routine checkup and cleaning. This will have your teeth clean and free of plaque, even in those hard-to-reach areas.
Frequently Asked Questions
How often should I see a dentist?
To achieve and maintain healthy teeth and gums, we recommend seeing the dentist every 6 months for routine checkup and cleans. This also allows us to be on top of any developing issues in your mouth. By staying on top of these early and having a preventative approach, it is more cost effective for the patient and easier overall.
I'm nervous to see the dentist but am due for a checkup and clean. How can you cater to anxious patients?
At our practice, we pride ourselves in giving patients a relaxed and comfortable experience. From the moment you walk, you're greeted with a smile and put at ease. Our gentle dentist is highly trained and experienced in working with even the most anxious patients, so you can feel assured knowing you're in the best possible hands.
We encourage you to speak with your dentist so we can ensure you're comfortable and put at ease right away.
My child is due for a checkup. Do you treat children?
We love treating all patients from children to seniors. Our practice is child friendly and our experienced team enjoy treating children in our practice. We take a lot of care in ensuring they have an enjoyable experience with us and want to come back again for their next visit!
I am experiencing dental pain. Can you treat emergencies?
If you're experiencing mild-severe dental pain, we encourage you to call us right away so we can see you. We want to get you out of pain quickly and fix the issue. We will do an exam to discover what the underlying issue is and proceed accordingly. If you require multiple treatments, we can discuss these with you at your appointment.
Book Your Checkup and Clean Today
Call our friendly team to book your checkup and clean appointment. We accept all major health funds and have a HICAPs on site for fast, on-the-spot claims.
CONTACT US »

Dental Check-up and Clean Redfern, Darlington, Surry Hills NSW | 02 9318 1972