Porcelain Veneers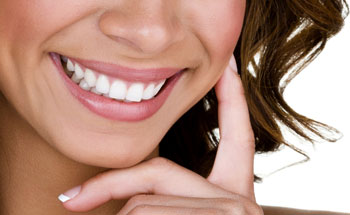 Dental veneers are becoming increasingly popular due to the way they can simultaneously repair, protect and enhance the appearance of your teeth. Over the past decade, the technology has become much more affordable so it's now much easier for anyone to achieve their perfect smile and regain lost confidence.
What are Porcelain Veneers?
A dental veneer is a very thin ceramic shell which is fixed over the surface of one or more teeth to improve the look and whiteness of your smile. They are a great way to quickly makeover your whole mouth, giving you an instant confidence boost. Porcelain veneers are custom-made in our dental lab based on an impression of your teeth, so you can be sure they will fit perfectly and look natural to your smile. We can also go through shades with you, so you can select the colour of your new smile.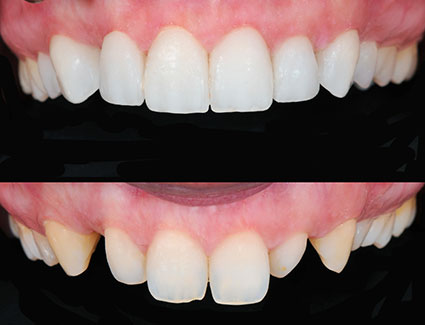 Are They Right for Me?
Veneers are used for both cosmetic and restorative dental treatments. If your teeth have suffered damage over time or you're simply unhappy with the way they look, veneers are a straightforward fix. They can mask issues such as:
Cracked teeth
Tooth staining
Chipped teeth
Tooth misalignment
Unsightly gaps between teeth
One of the key benefits of porcelain veneers compared to some other treatments is that, with proper care, they can last well over 10 years! Coupled with the fact that they're very resistant to chipping and staining, this means porcelain veneers represent a long term investment in your oral health and self-confidence.
The first step to creating your new smile, is to book a consultation with our dentist. We will go through a thorough evaluation of your smile and oral health to make sure you're a good candidate. If you require any other dental work, we can do this before your veneer treatment.
To fit a veneer, we will begin by removing a small amount of the surface of your teeth. This creates space for the veneer and ensures that it can sit properly in place. Once this has been done, your dentist will take an impression of your teeth, which will be used to make the bespoke porcelain piece. When the veneer is ready to be fitted, it will be securely fixed in place using a bonding agent. After a few quick checks, you're ready to show the world your new smile!
We recommend maintaining healthy teeth and gums by brushing twice daily and flossing around your veneers each day. If you don't clean well around them, it can cause your gums to become inflamed, which then leads to more bacteria that can threaten the bonding agent between your veneer and tooth. Schedule regular checkups to have your teeth cleaned and to prevent more serious dental concerns.
Patients who get veneers, also invest in a protective night guard to prevent any chipping in their veneers. If you grind or clench your teeth at night, it's one of the biggest factors that causes problems with veneers and other dental work. We can make your night guard for you at our practice following your veneer treatment.
Achieve a healthier, Happier Smile Today!
Contact our Redfern dental team to start your smile journey. We offer payment plans for your convenience and look forward to creating your new smile.
CONTACT US »

Porcelain Veneers Redfern, Darlington, Surry Hills NSW | 02 9318 1972