Emergency Dental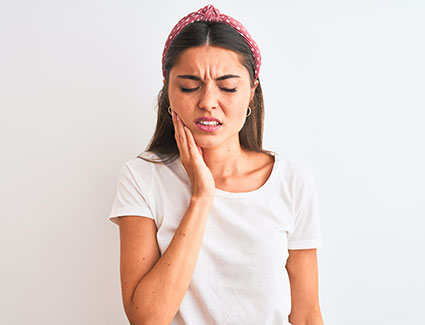 A dental emergency can be a stressful and painful experience to endure. Here at our practice, we offer prompt and compassionate treatments for patients who require fast pain relief and dental care. It is our goal to get you out of pain and help you regain better oral health and wellbeing.
Dental emergencies can occur at any time and place. Some dental emergencies include but not limited to:
Severe tooth pain or ache: If you're experiencing severe tooth pain, we encourage you to call us right away so we can arrange to see you. This could be signs of an infection of abscess on the tooth. It's important we assess the area and discover what is causing the tooth ache.
Broken teeth: If you've had a sporting injury or impact on the mouth, you may have a broken tooth as a result. Gently place the tooth into some cling wrap and bring it in with you to see us. We encourage you to call us right away so we can fit you into our schedule. You may decide to take over-the-counter pain relief to keep you comfortable until you see us.
Wisdom tooth pain: Sometimes wisdom teeth can develop the wrong way and cause impact to other surrounding teeth. If you're experiencing wisdom tooth pain, we ask you to call our practice to schedule an appointment. It is our priority to get you out of pain and comfortable as soon as possible. We will likely take X-rays if we need to see underneath the gums to investigate further.
Extractions: When a damaged tooth is too far past saving, an extraction may be the best solution to get you out of pain and comfortable again. When an infection occurs under the tooth and an abscess forms, this can be extremely painful and requires attention straight away. It the damage is not so severe, the tooth may be able to be saved with a root canal treatment.
Crown or filling falling out: If your dental crown or filling has fallen out, we ask you give us a call so we can see you right away. You can gently wrap your crown in some cling wrap for when you see us. We will be able to safely reseal the tooth on the spot and may need to create a new crown depending on the damage.
Swelling or bleeding: Sometimes if we don't floss often, we can experience minor bleeding on the gums. If you're experiencing more severe bleeding or swelling, we ask you give us a call right away. This could be signs of gum disease and can get painful if left untreated.
Cracked or knocked out tooth: A cracked or knocked out tooth can occur from a sporting injury where a mouthguard wasn't worn, or an unexpected accident. Gently wrap your knocked-out tooth in some cling wrap by holding the crown of the tooth. Be careful not to touch the roots. We'll want to see you right away to get you out of pain and comfortable as quickly as possible.
Call Now to Book Your Emergency Dental Appointment!
If you're experiencing a dental emergency, call our friendly team right away to book your appointment. It is our goal to get you out of pain and comfortable as soon as possible.
CONTACT US »

Emergency Dental Redfern, Darlington, Surry Hills NSW | 02 9318 1972