Children's Dentistry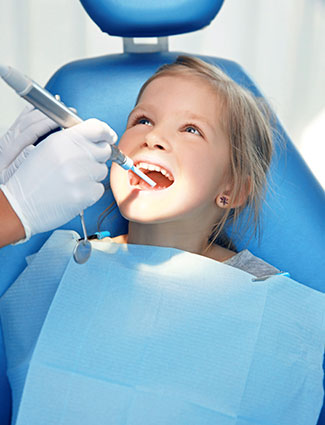 At our practice, we are most passionate about children's dentistry and believe that it is one of the most important parts of what we do. Coming to the dentist as a child, sets the standard of oral health from the beginning. It teaches them that their teeth and gums are an important part of their health.
Our team aim to support your child from their very first visit through the growth of their adult teeth and beyond. We take pride in providing a friendly and welcoming environment for kids to encourage them to enjoy their dental check-ups and want to keep coming back!
Your First Dental Appointment
A child's first tooth usually comes through when they are between 6 to 10-months old, at which point it's time to book them in for their first visit at our practice. Our friendly team offer stress-free check-ups for all kids and will recommend that they come back every 6 months so we can keep track of their oral health and wellbeing, as well as monitor any potential issues.
We encourage you to bring your child in with you for your dental appointments. This will help de-sensitise them to coming to the dentist and reinforce a positive experience when visiting our practice. It's important as parents we communicate positively when talking about the dentist to children, as they pick up on our language and emotions. This will set them up for a positive dental health journey for many years to come!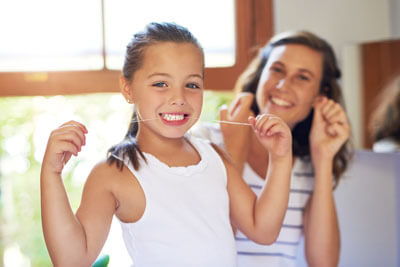 Teaching your children to look after their own teeth is an investment in their future oral health. Around age two, children can begin to learn how to brush their own teeth, with watching and practicing in groups a great way to develop the skill quickly. It's also important that they understand which foods can hurt their teeth, and what can happen if they don't take proper care of their smile.
Remember to brush your teeth in a gentle, circular motion with a soft bristle toothbrush. We will demonstrate this for your child at your first appointment.
In growing kids, we can help to develop the child's face by correcting problems like mouth breathing and bad habits. Children can develop a number of common oral health issues, with the majority of them being relatively minor and easily preventable. One of the most frequent oral health issues found in children is tooth decay and cavities, which can cause painful infections if left untreated. A regular visit to your dentist is a simple and straightforward way to avoid this.
Early detection allows us to be on top of any dental concerns early on in the child's life. It makes treatment easier for your child and more cost effective for you as well! Children who suck their thumb can also be causing damage to the alignment of their front teeth, which can lead to issues over time.
Good news is our team are highly skilled in preventing these issues in children and have a range of early detection techniques and services such as orthodontic appliances and other treatments.
Start Your Child's Oral Health Journey!
Contact our team to book your child's dental visit. We offer a range of children's dental services and accept all major health funds.
CONTACT US »

Children's Dentistry Redfern, Darlington, Surry Hills NSW | 02 9318 1972