Dental Implants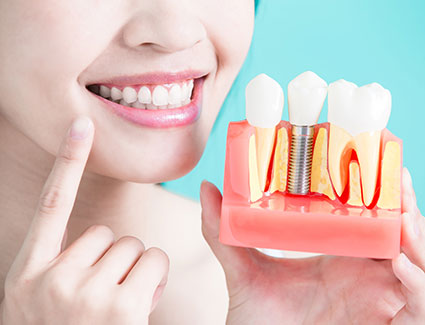 If missing or damaged teeth are keeping you from showing off your smile, then dental implants might be the perfect solution. At our practice, our dental implants are made of a strong titanium. They replace the root of the tooth, providing a strong and natural-looking replacement that is designed to fit perfectly with the surrounding teeth. Bridges can be used when a patient has lost a single tooth, while partial dentures can be used when multiple teeth have been lost or removed.
Advantages of Dental Implants
As well as providing you with a complete healthy smile, dental implants can also help to prevent your facial features from sagging, as can often happen with tooth loss. They are built to last and custom-made to fit each individual patient, meaning they will sit comfortably amongst the surrounding natural teeth.
Dental implants can also make it easier for you to speak and eat and assist in maintaining your overall oral health and wellbeing, preventing tooth and gum issues that can come from missing or damaged teeth.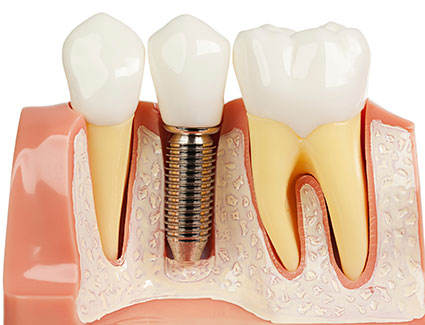 The first step to creating your new smile is to book an implant consultation with our dentist. We will need to assess your teeth and jaw, and ensure you have healthy gums and bone structure. Once we decide you're a good candidate, we will plan for your procedure and walk you through each step of the way.
Dental implants are surgically fitted into the patient's jawbone, in a procedure that uses either local or general anaesthetic. The titanium base of the implant is carefully secured, with the permanent crown being fitted once the area has had time to properly heal.
Our friendly staff will provide all patients with a straightforward and simple explanation of their dental implant procedure, ensuring they know what will happen at each stage. Our practitioners will also advise patients on the best way to care for their new implants, ensuring they can keep their smile happy and healthy for years to come.
Is everyone suitable for dental implants?

Normally most patients are suitable for implants. Good oral hygiene is a must as well as good residual bone, but today we have the option of bone grafting to improve the receiving site. To see if you're a good candidate for dental implants, give us a call to book your consultation.
What is procedure for dental implants being placed and will I be awake?
Generally speaking, we offer local anaesthetic, however we can use nitrous oxide or happy gas to reduce the anxiety.
The procedure itself involves us making a small incision in the gum to expose the jawbone, then a sequence of drills is used to drill in the jawbone. Once the dental implant is inserted firmly into the jaw, we allow for the jaw to completely heal and will have you come in for follow-up appointments. This is so we can monitor the healing and ensure everything is settling perfectly.
Following your appointment, we will go through thorough aftercare instructions, so you know exactly how to care for your implant at home. You may wish to take over-the-counter pain relief to reduce the swelling following your oral surgery.
How long is the procedure?

It all depends on the complexity of the case, but in general approximately 45 minutes to an hour.
How many visits does the implant procedure require?
We require one visit to insert the implant (sometimes an extra visit is necessary if the implant gum was closed completely and needs to be opened to place a healing cap).
You will also need to come in for a second visit to take impressions, and lastly a third visit to fit the final crown.
What is the recovery period?

It all depends on the complexity of the procedure, but in general just a couple days. However, it takes up to 3 months for dental implants to be ready because the bone will grow around the implants and bond with them as if they were bone. This process is called osseointegration and allows the implant to last and perform like a natural tooth.
Book Your Dental Implant Appointment!
Contact us today to book your implant consultation with our highly skilled dentist! We offer flexible payment options on-site. Call now!
CONTACT US »

Dental Implants Redfern, Darlington, Surry Hills NSW | 02 9318 1972